Protect your vehicle with car insurance
Buy auto insurance online in 5 minutes.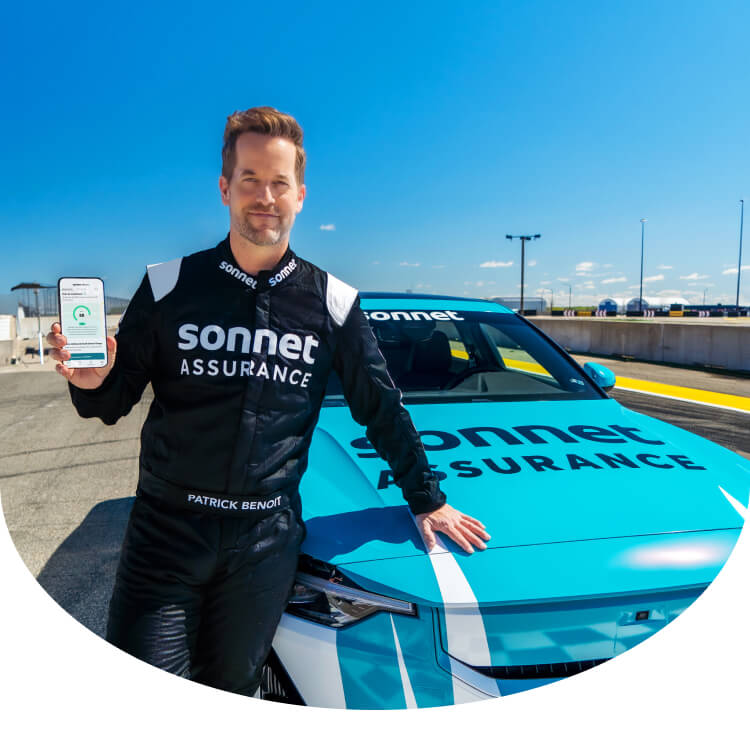 Get a free car insurance quote and buy online instantly
Getting insured has never been easier with Canada's first online car insurance company. If you live in Alberta, Ontario, Québec, New Brunswick, Nova Scotia or P.E.I., you can get a quick quote and buy car insurance online in just a few clicks. Get customized coverage, in language you can understand, at a competitive price – and do it all online. We've changed car insurance for the better, so you can worry less and live more.
Why do you need car insurance?
In Canada, if you own a vehicle, by law you must have auto insurance. Think of an insurance policy as a future investment. Protect yourself from the cost of having to repair or replace your vehicle if it's damaged or in an accident. Plus, if you cause damage or injuries to other people while driving, you'll be responsible for those costs too. Accidents happen, even to good drivers. Car insurance offers financial help when they do.
What does car insurance cover in Canada?
In Canada, car insurance is different based on the province you live in. There are coverages you must have and then some optional ones that increase your level of protection. With online car insurance, you have control of your policy and the optional coverages you choose. But, you should always review your policy so you know what's covered and what's not.
Mandatory auto insurance coverage
You must have liability coverage in order to drive. It protects you and other drivers financially in case of an accident where you're at fault. Liability covers any damages, injuries or losses experienced by another driver or individual.
This coverage is required across Canada (except Newfoundland and Labrador). If you sustain any injuries or damages from an accident, this will cover your costs. In Québec, B.C., Manitoba and Saskatchewan, it's included as part of your government auto insurance plan. For the rest of Canada, these benefits are included in your policy through a private insurer.
If you hit another vehicle or object (like a street sign or fire hydrant) or roll your vehicle, this will cover you for the cost to repair or replace your vehicle.
Do you lease or finance your vehicle? Having both comprehensive and collision coverage may actually be required by your lender. Find out more about insuring a leased or financed car.
It's not just when you're driving that your vehicle could be damaged. This has your vehicle covered for damage from things like falling objects, vandalism, fire, theft, lightning, windstorm and earthquake.
Do you lease or finance your vehicle? Having both comprehensive and collision coverage may actually be required by your lender. Find out more about insuring a leased or financed car.
Optional auto insurance coverage
Clean record for the last 6 years? We won't increase your rate due to your first at-fault accident and we automatically apply this protection again if after another 6 years you've got a clean record.
Protect that squeaky-clean history and your rate! When it comes time for renewal, your minor ticket won't impact your rate. We'll pretend like it didn't even happen. (Unavailable in Québec and New Brunswick).
Rental Costs. We'll take care of your rental car after an at-fault collision or during a comprehensive claim (that's not theft). Even better – there's no arbitrary limit, so you'll get a rental car comparable to your own. (Unavailable in Québec).
Non-Owned Vehicle Coverage. We'll cover you for the loss or damage to any borrowed or rented vehicle.
Roadside Assistance. We'll reimburse you for up to $50 for related emergency expenses.
New/Used Vehicle Replacement. We'll replace your vehicle without any adjustment for depreciation.
Hit-and-Run Deductible Waiver. We'll waive your deductible up to $1,000 in the event of a hit-and-run, as long as it's reported within a reasonable time (like a day).
Why buy auto insurance with Sonnet?
Driver-vehicle assignment

Have more than one vehicle insured with us? No matter which one you drive the most, we automatically assign you to the vehicle that will give you the best price.

Customer satisfaction

Online doesn't have to mean on-your-own. Email, chat or call our fully-licensed insurance agents and experience our 91% customer satisfaction score.
Nissan and Infiniti customers save even more
Are you a Nissan or INFINITI owner? Get an exclusive discount* on your Sonnet auto insurance. How? It's easy – just add a Nissan or INFINITI vehicle to your quote. We'll apply the discount to your final price. And, there are no hidden fees or follow up calls. Plus, you'll benefit from an enhanced claims experience, servicing your vehicle with OEM parts**.
Looking for more reasons to insure your car with Sonnet?
Get access to helpful information and a suite of services to simplify your life from our Sonnet Connect partners. Plus, take advantage of great discounts, promotions and free offers.
How much does auto insurance cost in Canada?
$1,706 is the median cost of car insurance with Sonnet in Canada. Get auto insurance for around the same amount the average person spends on gas annually.
How it's calculated
The cost of car insurance varies for each person. Insurance companies can base the premium on factors such as your driving record, claims history and how you use your car. The type of vehicle and where you live are also things they consider.
How can I save on auto insurance?
At Sonnet Insurance Company, we combine your unique information with a whole lot of math and analytics to build our best price just for you. And, savings are automatically included in your instant quote. Here are a few ways you could start saving on your auto insurance:
Claims free

No claims in the last 6 years? This could mean extra cash in your pocket.

Multi-vehicle

Insuring more than one vehicle with Sonnet could qualify you for a multi-vehicle saving.

Multi-policy

Bundling your home and auto policies could mean up to 20% savings for you.
What our customers are saying
"I was talking to my friend about overpaying my insurance and couldn't change insurers because of all of the paper work. He suggested that I try Sonnet online. Quote took literally 3 to 5 minutes and the price they gave me was unbelievable."
Ray M., Oshawa, Ontario
Questions about car insurance? We've got answers
Getting an auto insurance quote with Sonnet is quick and easy – with plenty of help along the way. Read through our current blogs or most frequently asked questions about car insurance to get started.
How can I save on my auto insurance?
We give you our best price that's specifically tailored for you. We've come up with a number of ways to help make sure you get the best price on your insurance.
There are a number of ways you could save on your auto insurance:
Exclusive Sonnet Savings. Self-service has its benefits! You'll save just for purchasing your insurance online. How easy is that?
Claims Free. If you're lucky enough to have been claims-free for six years, you could save.
Convictions Free. Good driving behaviour deserves to be rewarded!
Multi-Vehicle. Insuring more than one vehicle with us? Awesome! You may qualify for a multi-vehicle saving.
Multi-Policy (home and auto). You could save when you insure both your home and your vehicle with us.
Winter Tires (only in Ontario). They'll keep you safe and help you save on your auto insurance.
BONUS: Have more than one vehicle insured with Sonnet? No matter which one your drive the most, we'll automatically assign you as the primary driver to the vehicle that will give you the best price on your insurance.
How do I get the pink slip for my new car insurance?
Once you've purchased your auto policy, we'll send you an email with a link to activate your Sonnet account. Your car's pink slip (also known as your liability card or liability slip) and proof of insurance will be accessible directly through your account. From there, you can download and print them out.
Looking for your pink slip in your account? Follow these steps:
Log in to your account and click on your auto policy.
Click Download documents.
Select Download under your Liability Card to get your pink slip.
We'll also send you a hard copy of your new pink slip through the mail (which takes about 5 business days).
Haven't received your liability slip in the mail? First, double check the mailing address listed on your account. You can do this by signing into your account and selecting Settings. If your mailing address is incorrect, contact us.
Heads up! Although digital pink slips are now accepted in some provinces, you'll still need to carry a physical pink slip for your Sonnet auto policy while driving. We do not offer an electronic pink slip option at this time.
What's the difference between collision and comprehensive coverage?
Collision and comprehensive coverage work together to protect your car from many kinds of damage – so you won't need to pay out-of-pocket to repair or replace your car.

Collision coverage protects your car when you're at-fault in an accident, such as:
Your car hits another car
Your car hits an object (like a road sign or a street light)
Your car rolls over
Heads up! For some not-at-fault accidents, like if you're involved in a hit and run collision, you're still covered under your collision coverage.
Comprehensive coverage is a little different, because it protects your car from damage that's caused from things other than an accident. This could be a rock hitting your windshield or a tree falling on your car during a storm. While comprehensive coverage can differ between insurers, here's what it commonly covers you for:
Your car is damaged by fire
Your car is vandalized
Your car is stolen
Your car is damaged by a falling object
Your car is damaged from a wind or hailstorm
Heads up! Although not mandatory coverage, if you lease your vehicle, both collision and comprehensive coverage are usually required by your leasing or financing company. Learn more about insuring your leased or financed vehicle.
Do I need insurance for a leased or financed car?
How do you get car insurance in Canada?
Getting car insurance in Canada is easy. With Sonnet, you can get an auto insurance quote online in 5 minutes. All you'll need is your driver's license number, vehicle identification number (VIN) and the answers to a few simple questions – we do the rest of the work for you! Get an instant quote now.
Is car insurance mandatory in Canada?
Yes. In order to drive a car in Canada you are required by law to have insurance. Each province has its own minimum standard for mandatory vehicle insurance.
Will my Sonnet auto insurance cover me as an Uber or Lyft driver?
Using your vehicle to carry paying passengers is considered business use and is NOT covered by your policy. This includes, but is not limited to Uber, Lyft or any other similar ridesharing services.
Start saving on your car insurance today
Don't wait for renewal to take advantage of a better price. Find out how much it could cost you to cancel and switch to Sonnet.
Buy auto insurance online in 5 minutes