Get a home insurance quote and buy online
Protect your house, your stuff and yourself with homeowners insurance – in 5 minutes.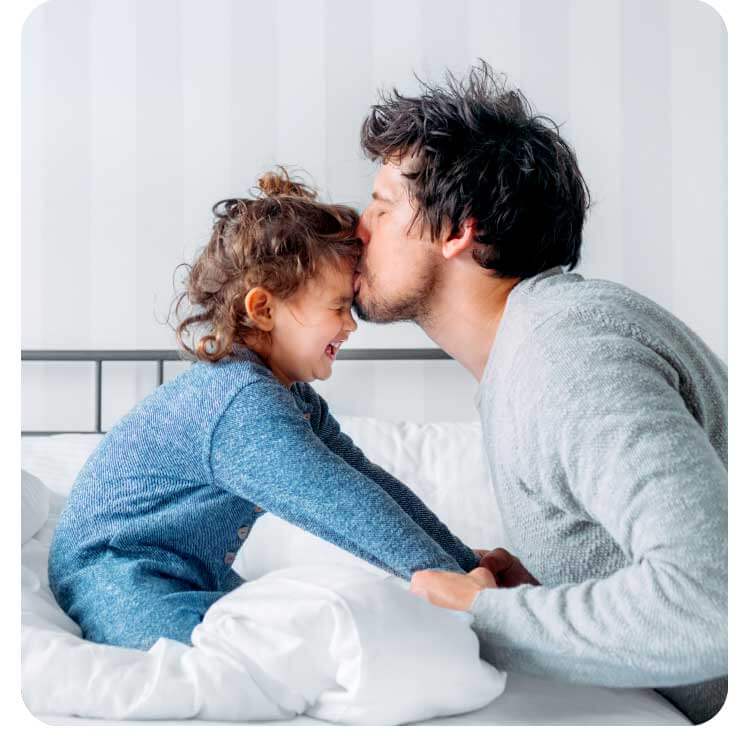 Own your home? Insure it instantly online
If you live in B.C., Alberta, Ontario, Québec, New Brunswick, Nova Scotia or P.E.I., you can buy property insurance online with Sonnet in just a few clicks. We've changed house insurance for the better with a free online quote that offers customized coverage, in language that makes sense, at a competitive price. It's home insurance made easier – so you can focus on the important stuff.
How does home insurance work?
Whether it's your first home, your forever home, or your vacation home, make sure you have the protection you need. When a claim happens, home insurance helps to put you back to where you were beforehand – letting you get back to making memories in the place you love.
What does home insurance cover?
Home insurance covers you for more than just fire, wind and glass damage. Here are some of the main coverages you can find under a standard all risk homeowners policy – and some optional home insurance add ons you might need. Don't forget, policies can differ between home insurance companies. Always review your policy to understand what you're covered for and what exclusions may exist.
Standard home insurance coverages
Protect yourself and the people in your home in case you're sued. With personal liability coverage, you're covered if someone gets hurt while visiting or for damage you may unintentionally cause.
Dwelling and Detached Structures
If something happens to your home, we'll pay to repair or rebuild it. Also, because your home isn't just four walls, we also cover things like your detached garage and shed.
Often called contents insurance, this protects property you own that you could pack in a bag or put in a moving truck. Personal property like your clothing, electronics, furniture, etc. are covered while they're on your property or temporarily removed (like when you're travelling to work – or out of the country).
In case something happens and you can't live in your home – you're covered while your house is being repaired. Choose to stay in a hotel or with friends and family, we'll provide you with the cash for living expenses either way. Renting out part of your home at the time of loss? You'll also be covered for your net rental income until your tenants can move back in.
This covers you and anyone else on your policy in case your identity is stolen. We'll reimburse you for legal fees as well as certain other costs that could happen, up to a limit. These could include lost wages if you have to take time off work to sort it out, and payment for services that help you get back to where you need to be.
Additional home insurance coverages
This coverage can help in some smelly situations. If water backs up or escapes into your home through a sewer, sump, septic tank, or floor drain, this will cover you for the damage caused. Coverage offered depends on eligibility.
You're covered for damage to your home caused by fresh water, such as excessive rain, spring run-off and melting snow, coming in at ground level through windows and doors. Coverage offered depends on eligibility.
Hail damage can be costly. Having hail coverage on your policy means your home and belongings will be repaired or replaced if a hailstorm happens. Hail coverage is automatically included in our home insurance policies (unless you live in Alberta, where it's optional but highly recommended).
In Canada, the coast of British Columbia and the St. Lawrence and Ottawa River valleys are prone to earthquakes. This optional coverage covers you in the event of loss or damage arising directly or indirectly from an earthquake. If a snowslide, a landslide, or other earth movements cause damage to your property as a result of an earthquake, you're also protected.
Why buy home insurance with Sonnet?
We're Canada's first fully online home and auto insurance company. With us, you can quote, purchase and manage your policy entirely online. Here's why else we think you'll love being insured with Sonnet:
Above and Beyond

First claim forgiveness, replacement cost guarantee and enhanced deductible waiver are all extra perks of our Above and Beyond coverage.

Express claims

On top of our 24/7 claims support, you have the option of an express claim for small losses.

Customer satisfaction

Online doesn't have to mean on-your-own. Email, chat or call our fully-licensed insurance agents and experience our 91% customer satisfaction score.
Save on more than just insurance
Get access to helpful information and a suite of services to simplify your life from our Sonnet Connect partners. Plus, take advantage of great discounts, promotions and free offers.
How much does home insurance cost in Canada?
$1,171/year is the median cost of home insurance with Sonnet in Canada. Get home insurance that adds up to about the same amount spent in a year on a daily coffee.
How it's calculated
The cost of home insurance is based on information about you and your home. An insurer will consider things like how much coverage you need, the building type and the location of your home and your claims history.
How can I save on my home insurance?
At Sonnet, we combine your unique information with a whole lot of math and analytics to build our best price just for you – savings automatically included. Here are a few ways you could save on your house insurance:
Claims free

No claims in the last 5 years? This could mean extra cash in your pocket.

Multi-location

Insuring more than one property could qualify you for a multi-location saving.

Multi-policy

Bundling your home and auto policies could mean up to 20% savings for you.
What our customers are saying
"My only regret is not finding you sooner. If there's anyone out there who's still shopping around for home / auto insurance – stop. You've found it, right here. Go Sonnet!"
Khristian N., Oshawa, Ontario
Questions about home insurance? We've got your back
Insuring your home should be simple. We've made getting a home insurance quote quick and easy, and we're here to help from start to finish. Read through our current blogs or most commonly asked questions on home insurance to get started.
Can I get insurance coverage with Sonnet for my vacation home?
Yes, you can cover your vacation property with a separate home insurance policy. Your vacation home must be located in Canada.
If you're not at your second home during the winter, there are a few things you'll need to do to protect your home. Drain the plumbing system and close the water inlet to keep the pipes from freezing and bursting. If your vacation home has central heating, set the thermostat low enough to conserve energy but high enough to keep pipes from bursting. Burst pipes due to freezing isn't covered under your vacation home coverage if you've been away from the property for more than 14 days and haven't had anyone checking on it.
I rent my home out from time to time. What kind of coverage should I get?
Well, it depends. If there are no more than two renters, you're allowed to rent part of your house out under your Homeowners Policy. You're also covered if you have one additional unit within your home that's rented to one family only.
If you're renting out a property separate from your home our Landlord Policy will make sure you're covered if there's any damage to items that belong to you and the property. Things like major appliances, fixtures or tools (a lawn mower or snow shovel are a couple of examples). If you live in your home, but you have more tenants than our Homeowners Policy allows for, you can purchase our Landlord Policy in addition, to cover you and your home adequately.
Does my Sonnet policy cover me for short-term rentals or home sharing through networks like Airbnb?
If you have a homeowner's policy with Sonnet, you're allowed to rent a portion of your home to a maximum of two people or a separate unit in your home to a family as long as you're living there at the time.
If you're not living there during the time it's rented, or this isn't your primary residence, then it's not covered under your homeowner's policy and you'll need a landlord policy.
If you have a condo owner's policy with Sonnet, you're allowed to rent out your entire condo regardless of whether you're living there or not. However, your coverage for burglary or theft is limited.
Heads up! If you have a long-term rental unit in your home and also rent out a portion on a short-term rental network, this could exceed the limitations of your policy. Please contact us if this applies to you and we'll make sure you've got the right coverage.
For more information on insurance and short-term renting, check out our blog on short-term rental insurance 101.
Do I need property insurance in Canada?
Whether it's a house or a condo, buying a new property is a big investment. But, it's more than a piece of property, it's your home. That's why it's important for every home and condo owner to buy property insurance in Canada. Without property insurance, you'd be responsible for covering the cost if something were to happen to your home or your stuff, you'd have to pay out of pocket for covering the cost.
Plus, if you have a mortgage on your house or condo, your lender will also likely require you to have home insurance coverage.
What is Above and Beyond home coverage?
If you upgrade your Custom Limits for your special belongings, you'll receive our Above and Beyond home coverage, which adds three extra perks to your policy:
First Claim Forgiveness. This means your rate won't increase after your first claim. We'll pretend it didn't even happen.
Replacement Cost Guarantee. You'll have the flexibility to settle claims at replacement cost, even if you decide not to repair or replace the damaged items.
Enhanced Deductible Waiver. We'll waive your deductible for claims of $10,000 or more. Sorry, this doesn't include claims caused by earthquakes.
Heads up! These perks cannot be added to a tenant or landlord policy.
How are home insurance premiums calculated?
During home insurance calculation, insurance companies look at a complex set of factors. These will determine the likelihood of you making a claim – and how much a claim could cost. The higher the likelihood is, the higher your premium will be.
Factors that can affect your home insurance premium include:
Where your home is located 
Based on your postal code, an insurer can find out how many claims are made in that area – and why they happen. For example, if your area has frequent windstorms, there could be more frequent claims for damage. This could cause your home premium to be higher than that of a house in an area that doesn't have windstorms very often.
Home age and condition 
The older the building, the higher the likelihood of a claim. That's because things like old wiring (fuses, for example) are a bigger risk for fire. And, old plumbing increases your risk of claims due to sudden leaks or burst pipes. 
Heating equipment
If your home is heated with oil (like it is in many rural areas), your premium could be higher. Oil tank leaks increase risk of damage and environmental hazards. Wood stoves are also a common source of house fires, so they could raise your payments, too. 
Proximity to fire support 
If your home is close to a fire station and fire hydrants – like in an urban area – your premium could be lower than a home in a rural location, where travel distance is longer. 
Number of past claims 
The longer you've been claims free, the lower your premium will be. If you've had a claim in the last year, you can expect your premium to go up at renewal. 
Your age and other information about you 
As you get older, your premium will tend to decrease. The fact is, many insurance providers consider homeowners with more experience as less risky to insure. Some insurers could also look at your credit score. 
How you use your home 
Do you rent out rooms or a basement unit in your house? Factors like this may also impact your premium since they can increase damage and liability risks. 
What are some extra home coverages I should know about?
Depending on where you live, additional coverages are available to add on for certain events that aren't covered by a standard home policy. These coverages are hail, sewer back up, overland water and earthquake. All of these coverages can be added when making your quote.
Already purchased? You can add on these coverages at any time through your account.
Wondering when to switch your home insurance?
You don't have to wait for renewal. Switching your house insurance to Sonnet may be easier and cheaper than you think.
Buy home insurance online in 5 minutes